Posted On November 30, 2017 By
Allie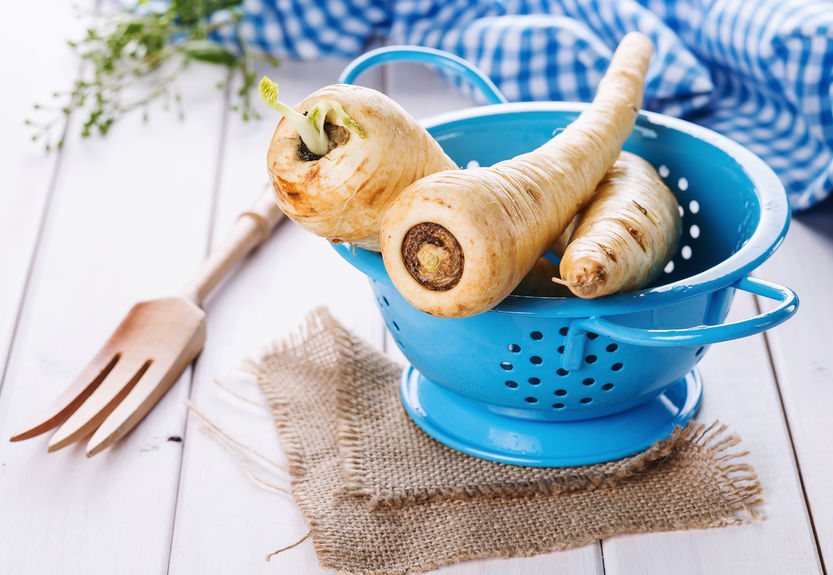 These roasted veggies are bursting with flavor and nutrients. They're about to give your most delicious holiday sides a run for their money!
Traditional holiday sides are notoriously rich. While we're not saying you shouldn't enjoy your mashed potatoes, gravy, gooey casseroles and thick breads, we think you'll enjoy this flavorful, nutrient-dense side dish just as much.
Ingredients: (serves about 4-6)
1 lb parsnips, peeled and cut into 1½" pieces
1 lb carrots, peeled and cut into 1½" pieces
1 ½ lbs delicata squash, unpeeled, halved, seeded and cut into ½" slices
1 lb baby turnips or radishes, trimmed and halved
8 small apples (about ½ lb), halved or quartered
4 large shallots, peeled and quartered
3 Tbsp extra-virgin olive oil
1 Tbsp chopped fresh rosemary
1 Tbsp fresh thyme leaves
1 ½ tsp sea salt + a pinch of salt for the glaze
¾ tsp freshly ground black pepper
1 cup apple cider or apple juice (no sugar added)
¼ cup apple cider vinegar
¼ cup water
2 Tbsp bourbon whiskey (may substitute bourbon extract or pure vanilla extract)
2 Tbsp chopped fresh flat-leaf parsley, or chives
Instructions:
Preheat the oven to 400 degrees and line 2 sheet pans with parchment paper.
Toss the vegetables in a large bowl with the olive oil, rosemary, salt and pepper. Arrange the veggies on the baking sheets in one layer and bake for about 40 minutes, or until vegetables are tender with browning on the edges. Stir after 20 minutes.
Meanwhile, bring the apple cider, vinegar, water, bourbon and a pinch of salt to a boil in a medium saucepan over high heat. Boil, stirring occasionally, for about 20 minutes, or until reduced to ¼ cup. It should have the consistency of balsamic vinegar- thick yet easily pourable.
Transfer the roasted vegetables to a large platter and drizzle with the cider-bourbon sauce. Sprinkle with fresh herbs.
Dietary Guide:
Gluten Free- Yes
Dairy Free- Yes
Vegetarian- Yes
Vegan- Yes
Nut Free- Yes
Macronutrient Content (approximate)
Whole recipe:
1,486 Calories, 486g Carbs (191g Sugar), 43g Fat, 64g Protein, 400mg Sodium
Serving sizes will vary. To figure out the nutrition per serving, simply divide the figures above by the number of servings you've made.
Did you make this recipe? What did you think? Let us know in the comments, or e-mail julia@ombodyhealth.com.