Posted On April 7, 2017 By
Allie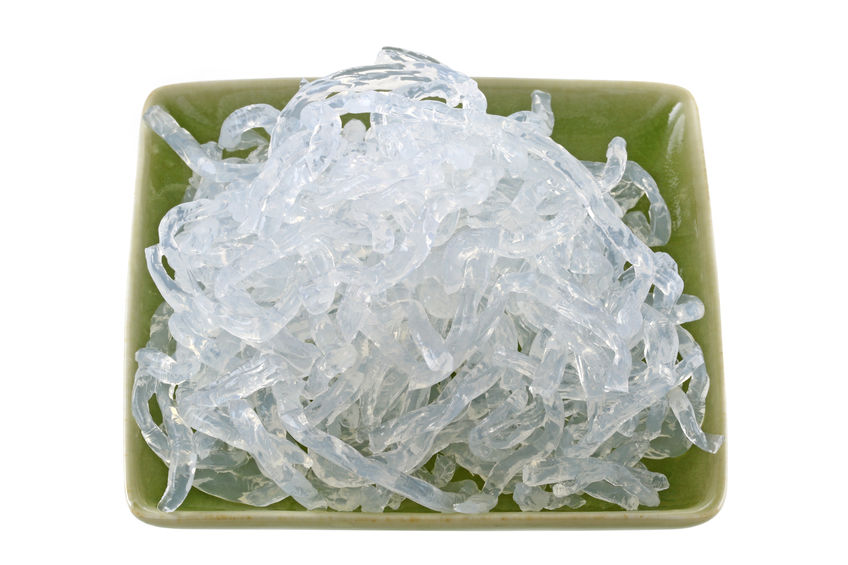 We recently bought our first package of kelp noodles. We were inspired after hearing about a type of noodle made from seaweed- we love "sea vegetables," as they're typically rich in minerals and very low-calorie.  Kelp is high in iodine, an essential mineral for thyroid function. Although kelp is brown, these noodles are clear because the outer shell (brown part) has been removed. They have no flavor of their own, which makes them a great base for sauces. The texture is fascinating- when you take them out of the package, they are dry and kind of crunchy. After soaking for 5-10 minutes, they are still a little crunchy. After tossing them thoroughly with sauce, they take on the exact same slippery texture as a thin rice noodle.
One thing we love about this recipe is that it's completely raw-no cooking required! Once you have assembled the ingredients, it takes very little time to make. The most time-consuming part is chopping up the scallions, cilantro and nuts.
Experimenting with kelp noodles is fun! We found a lot of recipes out there for kelp noodle Pad Thai, so we decided to make our own variation. The sauce we made is savory, and not as sweet as the Pad Thai sauce you find at most restaurants. Our sauce is sweetened only with carrot and a little honey. If you prefer a sweeter sauce, you can add more honey as desired.
This recipe is vegetarian, but it can easily be made vegan by substituting soy sauce for the fish sauce. If additional protein is desired, tofu, shrimp, or even chicken would be great additions as well. Let us know what you think!
Note: Kelp noodles are available at most large grocery stores with a natural foods section. Or, you can purchase them on Amazon.
Ingredients (serves 2 heaping bowls):
1 package Kelp noodles
Sauce:
2 heaping tablespoons raw almond butter
3 cloves garlic
1/2 yellow onion, sliced
1 small carrot
3 tablespoons fish sauce (or soy sauce)
2 tablespoons honey
Juice of 1 lime
Optional: Siracha or other hot sauce to taste
Toppings:
2 cups fresh Mung bean sprouts
1 bunch scallions, chopped
1/4 cup Chopped peanuts or cashews
1/2 cup fresh chopped cilantro
Equipment: Immersion or pitcher-style blender, mixing and serving bowls, tongs
Directions: 
Take noodles out of package, rinse, and let soak in a bowl of water for 5-10 minutes (longer is ok- we soaked ours while we made the sauce).
Combine sauce ingredients in pitcher blender, or bowl for use with immersion blender. Blend until fairly smooth.
Combine sauce and noodles in a bowl and mix well. We used tongs and employed the "lift and turn" method, gently coating all the noodles.
Place sauced noodles in serving bowls, and top with bean sprouts, chopped scallions, chopped cilantro, and chopped nuts.
And that's it!
Dietary Guide:
Gluten Free– Yes, unless soy sauce is used
Dairy Free– Yes
Sugar Free– Omit honey
Vegetarian– Yes
Vegan– Sub soy sauce for fish sauce
Nut Free– No
Nutrition facts (approximate)
Whole recipe
878 Calories, 72 g Carbs (39 g Sugar), 63 g Fat, 25 g Protein, 252 mg Sodium
Serving sizes will vary. To figure out the nutrition per serving, simply divide the figures above by the number of servings you've made.
Did you make this recipe? What did you think? Let us know in the comments, or e-mail julia@ombodyhealth.com.