Posted On February 15, 2018 By
Allie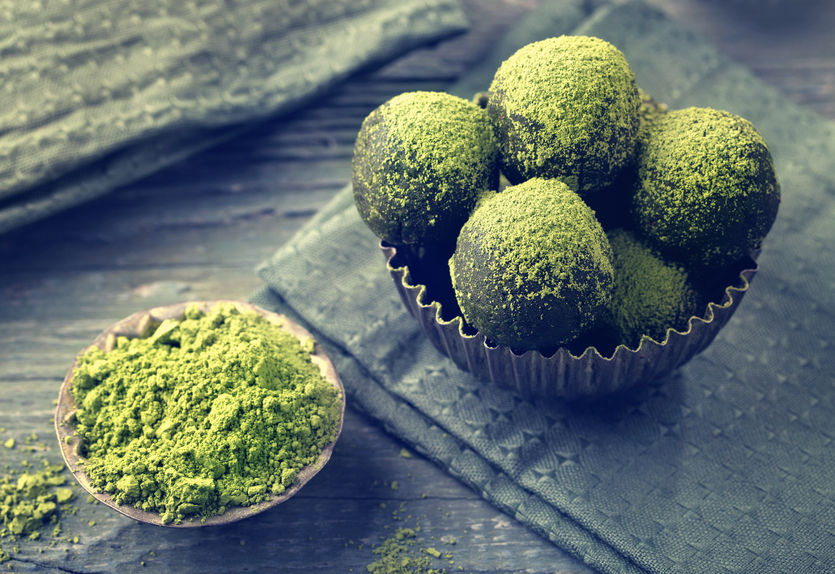 Matcha is a type of high-quality green tea that is sold in powdered form (ground up leaves). The tea leaves used to make matcha are harvested from a special growing process, and are highly regarded in Japanese culture. Different harvests of matcha leaves can have slightly different flavors, but overall, it has a mild vegetal taste with a slight lingering sweetness.
Besides tasting lovely, matcha has a host of health benefits. It's full of antioxidants, such as the powerful EGCg, it contains fiber, chlorophyll, and minerals, and has been found in studies to aid digestion and boost metabolism.
As it is a tea, matcha also contains some caffeine- not as much as coffee, but enough to put some pep in your step. Matcha is sometimes called the "espresso" of green teas.
In this recipe, we incorporated matcha powder into tasty protein-rich "energy balls"- portable healthy snacks that contain whole food ingredients, and are designed to keep you going no matter how much you have on your to-do list.
Ingredients (Makes about 12 balls):
1 cup almonds OR natural almond meal (may substitute other nuts)
1½ tbsp organic chia seeds
6-8 dates, pitted
A trickle of coconut water or almond milk
2½ tbsp coconut oil, melted
2 tsp organic flax seeds
1½ tsp organic matcha green tea powder, plus more for rolling
1-2 scoops (30-40 grams, scoop sizes vary by brand) of vanilla or chocolate protein powder (Check out our top pick: Shaklee Energizing Protein)
4 tbsp shredded coconut
Instructions:
Combine dry ingredients together in a food processor. We like to start with the almonds, and pulse or grind until they are coarsely chopped, before adding other ingredients. Add coconut oil. Trickle coconut water or almond milk  into the mix and keep blending until you get a dough-like mixture that is soft but still cohesive.
Roll up small pieces of the "dough" into balls of your desired size.
Roll balls through a small dish of matcha powder to coat the outside (optional)
Keep in the fridge for up to 7 days, or in the freezer for a couple of weeks, if they last that long!
—
Dietary Guide:
Gluten Free- Yes*
Dairy Free- Yes*
Vegetarian- Yes
Vegan- Yes
Nut Free- No
*Please note that this depends on the type of protein supplement you use.
Macronutrient Content (approximate)
Whole recipe, with Shaklee Energizing Protein:
Calories: 2,217, Total Carbs: 145g, Sugar: 45g, Fat: 110g, Protein: 97g, Sodium:240 mg
Serving sizes will vary. To figure out the nutrition per serving, simply divide the figures above by the number of servings you've made.
Did you make this recipe? What did you think? Let us know in the comments, or email julia@ombodyhealth.com.