Posted On August 30, 2017 By
Allie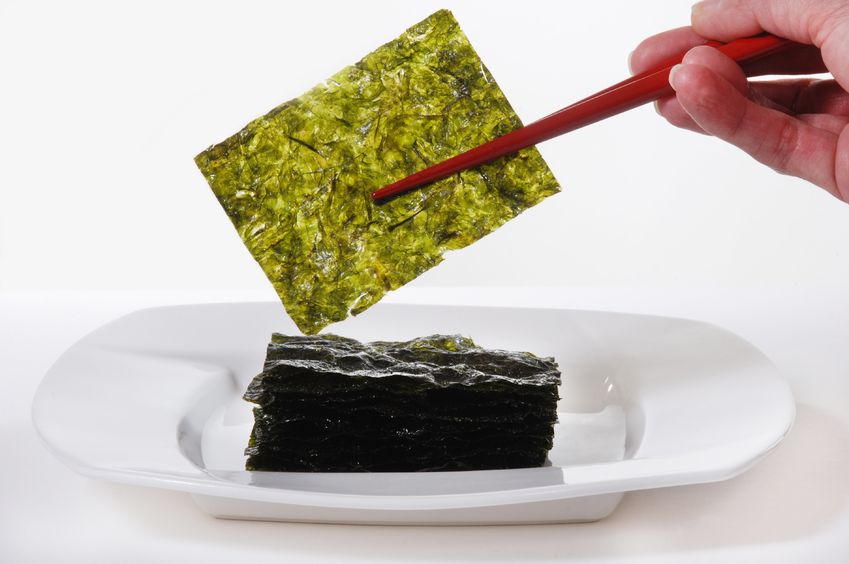 If you're a sushi lover, you may have had a cone-shaped roll wrapped in nori (toasted seaweed, pictured above) called a "hand roll." The name comes from the fact that they're meant to be eaten with- yup- your hands. Hand rolls are fun to eat, easy to make, and can be filled with virtually anything you find appetizing.
In this recipe, we fill half-size rolls with fresh veggies, and skip the rice. Sushi rice can be tricky to make at home, but if you'd like to give it a go, plenty of tutorials can be found online. These rolls are perfect for a snack or as a healthy appetizer at your next gathering.
You can keep the veggies plain to emphasize their fresh flavor and crunchy texture, or you can toss them with a bit of the optional dressing. The dressing will make the nori a bit soggy if you try to store the rolls, so if you're making these ahead, we recommend serving it separately as a dipping sauce.
Feel free to experiment with fillings! Use your favorite crunchy vegetables, add fresh herbs, or even hearty fruits such as mango, apple slices, or pineapple. Just be careful not to include ingredients that are too wet or juicy- nori can go from crisp to soggy in the blink of an eye. If you want to turn these into a heartier snack or a light lunch, you can add protein as well. Grilled chicken, seafood, tofu, or tempeh make great additions.
Ingredients:
1 package large nori sheets,* cut in half
1 medium cucumber (peeled if preferred)
1 large carrot (peeled if preferred)
1 head of tender lettuce, such as Bibb or Butterhead
1 medium bell pepper (color of choice)
1 ripe but firm avocado
Several sprigs cilantro, or other favorite fresh herb
Optional dressing/dipping sauce:
1/4 cup toasted sesame oil
3 TBSP rice wine vinegar, or other vinegar of choice
Pinch of salt
A few drops Sriracha or other hot sauce (optional)
*Nori is a type of dried seaweed. It can be purchased at most large grocery stores, typically in the same section as other Asian foods.
Instructions:
Cut cucumber, carrot, and pepper into 2-4″ matchsticks (also known as juliennes). For the cucumber and carrot, cut them in thirds or halves width-wise first. Then, simply continue making lengthwise cuts into each vegetable until desired size is achieved.
Slice the avocado in half lengthwise and remove pit. Slice the flesh lengthwise into thin pieces and discard the skin.
Tear lettuce into leaves about 1/4-1/2 the size of a nori sheet.
Chop or break the cilantro or other herbs into approx. 3″ stems.
If using dressing, whisk the ingredients vigorously until combined. Lightly toss the carrots, cucumbers, and peppers with it, or if making ahead, reserve the dressing as a dipping sauce.
To assemble the rolls:
We find this short video tutorial helpful.
The idea is to make a cone. Notice that he is using half of a nori sheet.
You can "seal" the edges and bottom of the roll with a drop of edible "glue"- simply whisk a pinch of flour into a small amount of water. Plain water will work as well. Be careful not to use too much water, nori gets soggy and limp easily!
Enjoy!
Dietary Guide:
Gluten Free– Yes
Dairy Free– Yes
Vegetarian– Yes
Vegan– Yes
Nut Free– Yes
Macronutrient Content (approximate)
Whole recipe (without dressing, 8 sheets of nori)
408 Calories, 48g Carbs (14g Sugar), 23g Fat, 16g Protein, 52mg Sodium 
Dressing
504 Calories, 4g Carbs (0g Sugar), 56g Fat, 0g Protein, 4mgSodium
Serving sizes will vary. To figure out the nutrition per serving, simply divide the figures above by the number of servings you've made.
Did you make this recipe? What did you think? Let us know in the comments, or e-mail julia@ombodyhealth.com.