Posted On April 30, 2017 By
Allie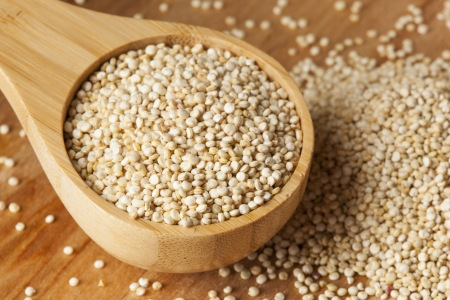 This light, healthy, make-ahead salads that tastes good either warm or cold. A Mediterranean-style recipe features high-protein quinoa and chickpeas, antioxidant-rich veggies, walnuts for Omega-3's, fresh herbs and a bit of cheese for a salty bite. Not to mention it's DELICIOUS!
INGREDIENTS (serves 2 as a meal, 4 as a side):
For the salad:
1 cup cooked quinoa (1/2 c dry makes 1 c cooked- see instructions for cooking below)
¾ cup of water or broth
½ cup cooked chickpeas (canned is fine)
¾ pound cherry tomatoes
1 Tbsp extra-virgin olive oil (approx.)
2 tsp coconut oil
Sea salt and freshly ground pepper, to taste
1¼ cup corn kernels, from 2 small ears of corn
2½ cups stemmed and finely chopped spinach
¾ cup chopped cilantro
⅓ cup walnuts, finely chopped
½ cup feta or other salty cheese (such as ricotta salata)
For the dressing:
2 cloves garlic
2 teaspoon Dijon mustard
2 tablespoons apple cider vinegar
3 tablespoons extra-virgin olive oil
¼ cup buttermilk
Sea salt and freshly ground pepper
Equipment:
Fry pan, pot with lid, baking sheet, parchment paper (optional), food processor or mortar and pestle, large mixing bowl
DIRECTIONS:
To cook quinoa: Rinse and drain 1/2 c dry quinoa. Put it in a pot with about 3/4 c water or broth of choice. Bring it to a boil, then reduce to simmer, cover, and cook for 13 minutes. Fluff it with a fork, turn off the heat, set the cover ajar, and set aside to cool completely.
To roast tomatoes: Place a rack in the upper third of the oven and preheat to 325ºF. Halve the tomatoes and spread them on a parchment-lined, rimmed baking sheet. Drizzle on olive oil, a pinch of salt and pepper, and toss everything to coat. Spread the tomatoes in an even layer and roast for 30 to 35 minutes until slightly dried at the edges. Remove to cool.
To sautée corn: (Note: Corn may be grilled on the cob before slicing off kernels as an alternative to this method). Heat the coconut oil in a large frying pan over medium-high heat. Add the corn kernels and sauté, only stirring once or twice, for 2 minutes to just char the outside. Set aside to cool.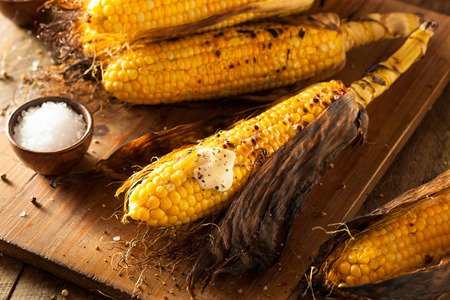 Both of these steps may be done 1 day in advance.
In a large mixing bowl, combine the cooled quinoa, chickpeas, spinach, and cilantro. When the tomatoes and corn are completely cool, add them along with the walnuts and cheese to the bowl.
For the dressing, in a food processor or with a mortar and pestle, pulse or smash the garlic cloves. Add the mustard, vinegar, olive oil, buttermilk, and a hearty pinch of salt and pepper and mix everything to combine.
Toss the salad with the desired amount of dressing. This salad will keep, covered, in the fridge for 3-5 days.
Dietary Guide:
Gluten Free– Yes
Dairy Free– Leave out cheese and buttermilk
Sugar Free– Yes
Vegetarian– Yes
Vegan– Leave out cheese and buttermilk
Nut Free– Leave out walnuts
**If desired, buttermilk can be substituted by 1/4 cup of plain nut milk and an extra teaspoon of apple cider vinegar.**
Nutrition facts (approximate)
Whole recipe
1,978 Calories, 112 g Carbs (11 g Sugar), 89 g Fat, 64 g Protein, 1,674 mg Sodium
Serving sizes will vary. To figure out the nutrition per serving, simply divide the figures above by the number of servings you've made.
Did you make this recipe? What did you think? Let us know in the comments, or e-mail julia@ombodyhealth.com.