Posted On June 1, 2018 By
Allie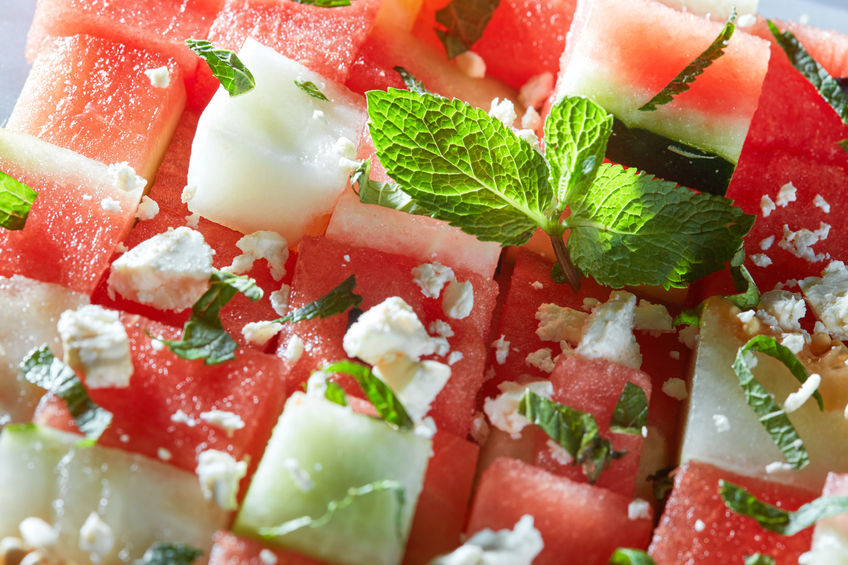 The ingredients may sound unorthodox, but the combination of flavors and textures is positively addicting! This salad is perfect as a healthy addition to a summer picnic, or as a side dish with grilled fish or chicken.
Ingredients:
1/4 cup freshly squeezed orange juice
1/4 cup freshly squeezed lemon juice (2 lemons)
1/4 cup minced shallots (1 large)
1 tablespoon honey
1/2 cup good olive oil
1 teaspoon kosher salt
1/2 teaspoon freshly ground black pepper
6 cups baby arugula, washed and spun dry
1/8th seedless watermelon, rind removed, and cut in 1-inch cubes
2 ounces good feta cheese, 1/2-inch diced
1 cup (4 ounces) whole fresh mint leaves, sliced thinly
1/3 cup sunflower seeds, roasted and salted
Instructions:
Whisk together the orange juice, lemon juice, shallots, honey, salt, and pepper. Slowly pour in the olive oil, and whisking constantly. If not serving the salad within an hour, reserve the vinaigrette covered in the refrigerator.
Place the arugula, watermelon, feta, and mint in a large bowl. Drizzle with enough vinaigrette to coat the greens lightly and toss well. Top with sunflower seeds. Serve immediately.