Posted On June 22, 2020 By
Allie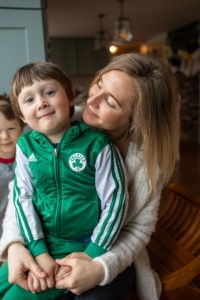 Last week I was at Evergreen Cemetery in Portland, Maine exploring with my nephews. The eldest, Wyatt (pictured to the left), is passionate about animals and knows an impressive amount about their preferences. After sneakily slopping through the mud catching frogs, gazing in wide-eyed wonder at the pair of Great Horned Owls, majestic and untouchable in their perch, and watching snapping turtles get it on, we came across a woman feeding bread to the resident ducks.
It was clear that feeding bread to these ducks was a ritual for this woman, something she and her two companions did regularly, a meaningful outing that brought them a sense of purpose and satisfaction.
"Ducks can't have bread" said Wyatt wholeheartedly, his brow furrowed with worry, as we watched the woman throwing big chunks of bread to the ducks (something I had done in my own youth). I was not surprised by the news, Wyatt had shared this crucial information with me just days earlier, nor was I surprised by my nephew's boldness and bravery in standing up for the Truth.
Wyatt is 5 years old, not yet muted and tamed by the inertia of mother culture, and deeply sentient to what matters. He does not yet choose whether or not he will speak up when something doesn't feel right to him. He does not yet live in duality. For Wyatt, quietly standing by while animals get sick (ducks, nor frogs, can't digest bread, especially in large amounts, and eating it can cause fattening, deformities and other health problems associated with poor nutrition) because he does not want to offend someone or make someone uncomfortable, is not an option. He and his little brother Cooper tell it like it is, and I look up to them for this. They remind me how important it is to stay true to my wild – that part in all of us that guides us toward the Truth pulsing through our veins, the part that often gets hushed by the voice in our head.
The woman did not receive the information well. Rolling her eyes and tossing her last piece of bread to a nearby duck, she replied with a subtle yet prickly, "these ducks have been eating bread for years".
I could relate, I too am guilty of sprouting thorns from time to time when one of my unexamined beliefs is questioned…
Thinkers and Believers*
Certainty makes me hard and prickly; I want to be soft and fluid (most of the time). I used to think that I should have a firm grasp on my beliefs (and sometimes this old, haughty pattern still takes hold). I now think that believers are some of the most dangerous people in the world. The woman with the bread is a believer. Trump is a believer, once proclaiming in an interview: "I am the least racist person you will ever meet."
Gripping tightly to dogma is confining and destructive, and not just for us. Sure, beliefs are grounding and comforting for our sense of identity, and they keep us stuck. Beliefs are subjective, flawed and myopic; always informed on some level by our own experience, culture and worldview.
We will never be strictly a believer or a thinker, and the moment we believe we have arrived at one or the other we have put on our believer hat.
So how do we know if we're wearing our believer hat or our thinker hat? If you're like me, there are certain beliefs and ideas that you feel less attached to than others. The more certain we are of a belief, the more triggered (prickly) we feel when it is challenged. To quote a line from one of my favorite poems by Gunilla Norris: "Certainty breed tremendous smugness".
I'm not saying don't have beliefs, I'm saying hold your beliefs more spaciously. Allow them to be light and porous, like an airy piece of pumice, rather than heavy and dense like basalt. This way, when someone comes in to expose a blind spot, you have the space for the experiences and stories of others to seep in, inform your thinking to be more inclusive, and bring you closer to the Truth.
*Inspired by Kendi's book: How to Be An Antiracist, linked at bottom.
The Belief I Am Not Racist is Dangerous
Many white people show their thorns when words like racism, white privilege and white supremacy come up in conversation, and if we don't get prickly, we change the subject or stay silent. I've seen many examples of this over the past few weeks: As black voices and stories amplify, the Truth becomes more pervasive, and white people harden and go sharp, making accusations of reverse-racism, declaring "All Lives Matter" or "Blue Lives Matter", or saying nothing at all (#whitesilenceisviolence).
Why is it that we become defensive when our beliefs come into question?  Shouldn't it be the opposite? If we genuinely want to be good people who align with our values and seek the Truth, which most of us do, shouldn't our thorns recoil and our skin soften when the teacher enters the room?
Like any instinct, this primal defense was at one time in human evolution linked to our survival, but as is the case with all patterns driven by human instinct, we are both capable and responsible to grow out of it when it stops serving us and our family here on Earth.
Blindly or quietly putting up our defenses when Truth-tellers come into our lives is toxic behavior, and not just for us. It keeps us stuck, unwilling to engage in the micro-shifts necessary to become a good person (partner, sibling, daughter, boss, mother, father, friend), which is a continuous process; and thus, making us complicit in the stagnancy of mother culture to address things like racist policies fueled by white supremacy and blatant disregard for the Earth and future generations (which also disproportionally impacts POC).
Mother Culture Only Heals When the People Heal
Healing is revealing and the early stages of healing can be quite painful. If we support macro, systemic shifts that foster equity for black and brown people, then we must be willing to look at and make micro-adjustments in our own lives. The system does not change unless the people change.
Just like we will never be entirely good or bad, right or wrong, thinkers or believers, we will never be entirely antiracist or racist. Thankfully, identity is fluid; we must keep deciding to be antiracist over and over again for the rest of our lives. This is how we change our brain and this is how we change the world; repetitive intentional, ongoing action in the direction we want to go.
Like Wyatt, we need to re-sensitize to and speak the Truth, not the truth we think in our brain, but the Truth we know in our veins. And then when the sucker punch of shame hits us in the gut, we need to feel it, soften, recoil our spikes, and allow ourselves to learn how to be better.
Final Thoughts
There is a virus drifting through the air—the virus of white complacency, complicity and silence—that slowly eats away at our hearts and integrity (wholeness), all the while pinning down and suffocating People of Color. The symptoms of this virus are self-dislike and a duality so strong it splits us in two and causes us to question whether or not we're a good person. Good, let us question this, let us look uncomfortably through the magnifying glass of self-judgment until the sickness in our stomachs and heaviness in our hearts gives us no other choice but to take action, and then let us choose antiracism over comfort, our human family over our privilege, over and over again.
As we walked away, I told Wyatt that I was proud of him for speaking up for what matters and that I hope he never stops. Later I thought to myself, I wonder if she'll keep feeding the ducks bread? Or if she put on her thinker hat, reconsidered Wyatt's teachings and her reaction, perhaps did a little research of her own, and ordered some cracked corn.
Reference & Suggested Reading:
How to Be an Antiracist by Ibram X Kendi
Last I knew this book is sold-out nationwide. Order the audiobook from a Café Con Libros here (a Black, female-owned bookstore in Brooklyn).
About the Author
Allie Andrews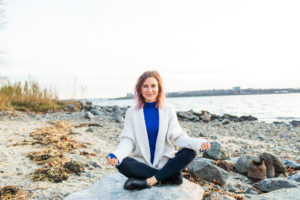 is founder/ owner of OmBody Health. A recovering busy addict herself, she is passionate about teaching busy people to rush less, create space for self-care, and mindfully flow between doing and being to be more effective, creative, and purposeful.