Posted On June 27, 2017 By
Allie
Stress can really drain you, but stress-relief is free and accessible to nearly anyone, anywhere with these 5 simple yoga poses . Doesn't that take the edge off a little?
Practicing yoga is a proven way to calm the nervous system: It can lower your blood pressure, provide relief for chronic back pain and even relieve symptoms of anxiety and depression. Anyone can do it, and If you have space at lease as big as a yoga mat, you're good to go.
The next time you feel symptoms of stress and tension creeping up on you, take a deep breath and remove your shoes: It's time for some stress relief. These 5 simple poses might become your new pre-bed time relaxation routine. As you move through the postures, remember to take slow, deep breaths, and practice paying attention to how each part of your body feels.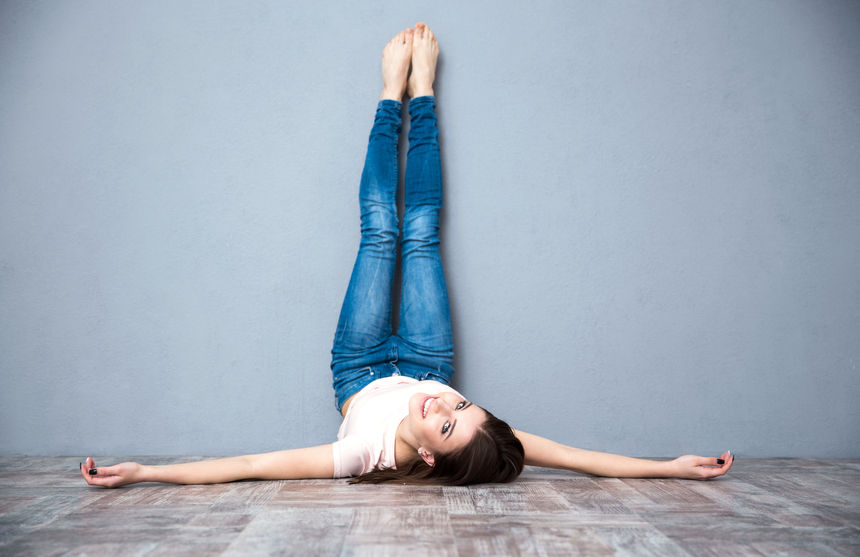 Legs Up the Wall
How to do it: Lie on your back facing a wall. You may do this on a bed, a yoga mat, blanket, or directly on the floor. Scoot yourself up close enough to the wall that you can rest the backs of your legs comfortably against it, as shown. You might choose to put a pillow(s) under your back or rear to make you more comfortable. Your knees can be straight or bent.
How long: Between 1-15 minutes.
How it calms: Placing your legs gently above your heart allows for greater blood flow and lymph drainage toward your heart and head.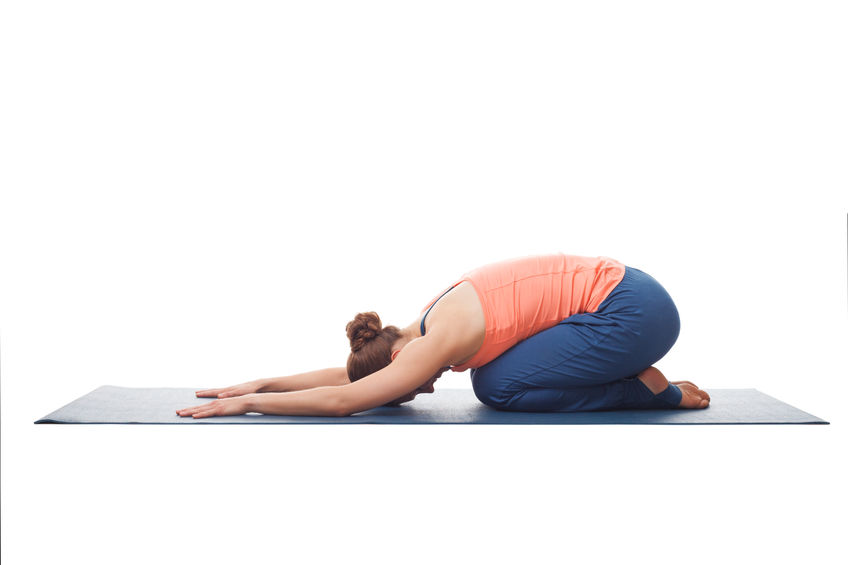 Child's Pose
How to do it: Kneel on the floor, a yoga mat or blanket. Sit back on your heels- get your glutes as close to touching your heels as possible, but if they don't touch, that's ok. You can always wedge a pillow between your heels for more support. Your knees can be wide apart or narrow. Fold forward onto the floor, as pictured. Try to rest your forehead on the floor. If that is uncomfortable, place your forehead on a pillow or yoga block. Arms may be outstretched, as shown, or you can lay them alongside your waist.
How long: Between 1-5 minutes
How it calms: A safe and secure posture, child's pose is very restful and allows your whole body to relax while opening up the lower back.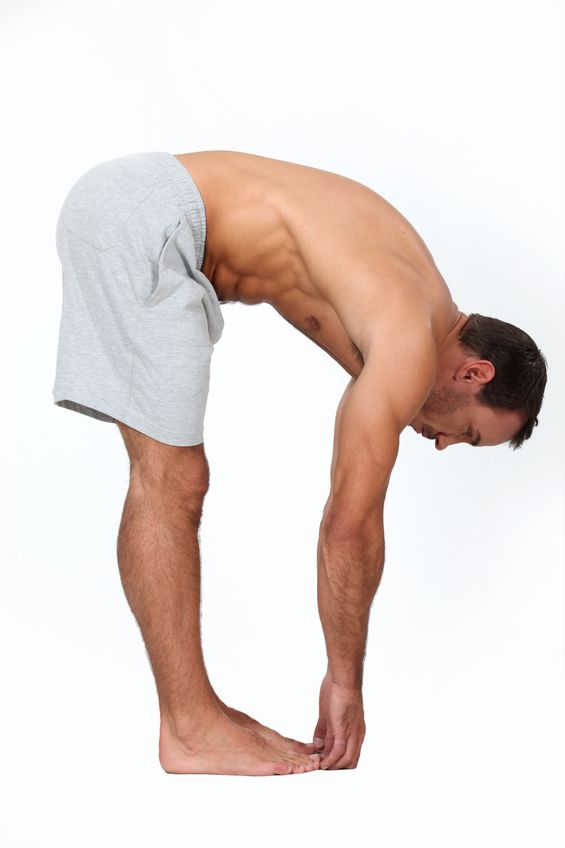 Standing Forward Fold
How to do it: Begin standing on a hard surface with your feet hip width apart. Straighten your back and bend forward slowly from the hips. As you go down, notice how the backs of your legs feel, and bend your knees if they feel tight. Let your entire upper body hang toward the floor. Try to relax your back, neck and head as much as possible. It may feel weird at first to let your head hang like a heavy bowling ball, but we promise it's worth a try!
How long: Between 1-3 minutes
How it calms: This pose stretches out your legs and helps your back and neck release tension. We hold our upper bodies upright most of the time while standing and sitting. Over time, that can cause the vertebrae to compress, leading to stiffness and back pain. This posture is your chance to gently counter-balance the forces which may be causing pain anywhere in the upper body.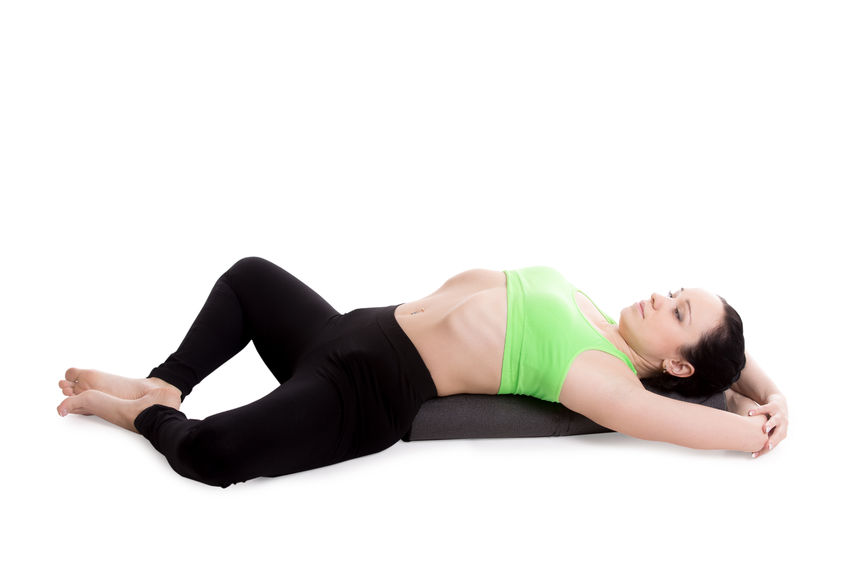 Reclined Bound Angle Pose
How to do it: Begin lying on the floor, a mat, blanket, or a bed. Bring the soles of your feet together as shown. Your arms may rest wherever is comfortable. Try reaching them overhead for a shoulder stretch. You may also prop a pillow or folded blanket under your upper or middle back, as pictured.
How long: Between 1-15 minutes
How it calms: This pose releases tension in the hips, and it grounds and relaxes your whole back and neck.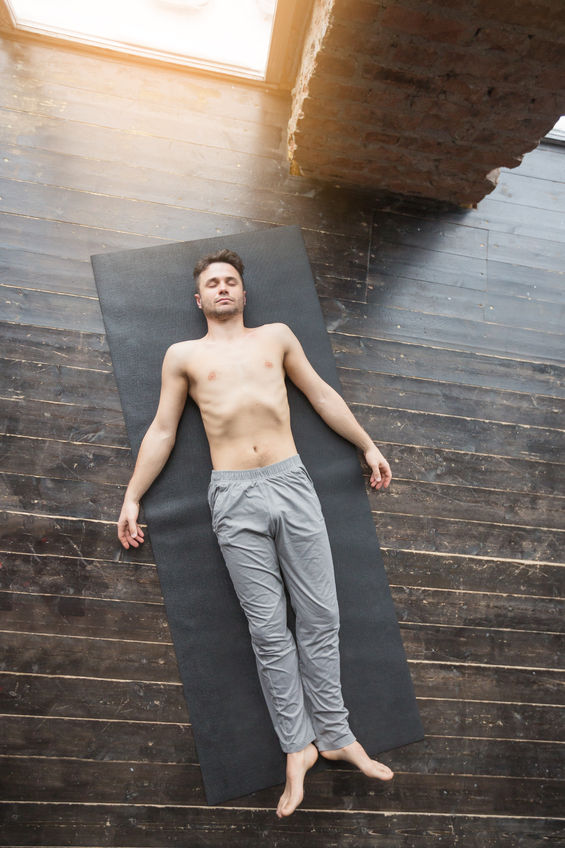 Corpse Pose (a.k.a Savasana)
How to do it: Lie on the floor, mat, blanket, or a bed. Bring your mind to focus on your breath. If desired, you can place a hand on your chest, diaphragm, or belly to feel your body move rhythmically with each breath. Each time your mind wanders, try to bring it back to your breath.
How long: At least 2 minutes, as long as 8-10 hours (you may sleep like this).
How it calms: Your whole body should relax in this pose. No effort is needed. It calms the mind by allowing you to focus on your breath and body without having anywhere to go or anything to attend to.
Give this routine a try next time you need a little stress relief. Let us know what you think!
About the Author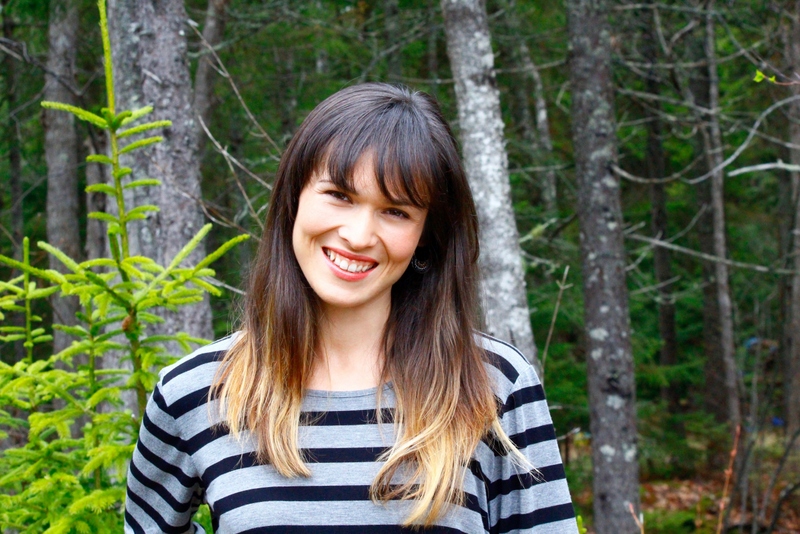 Julia Workman, CYT
Julia is an experienced yogi, teacher and dancer with a passion for wellness. As the Fitness Program Director OmBody Health, she designs and implements Yoga and fitness programs for our corporate clients. She also teaches powerful workshops that guide busy people toward healthier work/life integration.