Posted On February 14, 2020 By
Allie
I've been traveling solo in Bali for the past few weeks, wandering, recharging and working on my second book, which is all about creating space for what matters. You may not know this, but writing is something that matters deeply to me, it helps me understand myself and make sense of the world; it's also a deeply healing form of creative expression for me. So in part, this trip is research for my book: Leaving everything behind for a while – my business, my boyfriend, my cat Bindi, my family – wasn't easy, but it is allowing me to live a more aligned life.
I spent the last 5 days at a beautiful open-air villa in the outskirts Ubud (Villa Pantulan) on a writing retreat with 4 other amazing women. The retreat was led by the esteemed, glorious, motherly, and honest Jacq Burns, founder of the London Writer's Club. Before the retreat, Jacq recommended a few books to help me to help me as I refined my premise, one being To Have or to Be? By Erich Fromm, a deeply philosophical book on having as in possessing and being as in becoming, and how the mode we exist in – having mode or being mode – impacts who we are and our experiences. Since I'm writing about making the shift from busy to being as the way to create space for what matters, this book is quite pertinent and stimulating.

Be Loving, Don't Have Love
Today I was reading about having and being in the context of love. Fromm and others write of love as a verb. This got me thinking about how we speak the words "I love you", but often treat love like a static thing that we have (or don't have).
Loving is a living process, an opportunity, something we do or don't do, while having love alienates us from the very critical act of loving, which is of course what keeps love alive. Love is like a houseplant, if we stop watering and giving it sunlight, it dries up and eventually dies.
This is the thing that makes falling in love so magical and is often missing from old love: The commitment to the act of loving rather than assuming it will always be there, like a watch or a pair of jeans.
To have love rather than be loving is a fatal flaw that drains it, and life, of its luster. It's not that we don't love, it's just that sometimes we get comfortable and we forget to be loving.
The same is true for self-love. Many people say they love themselves, but how many are actually expressing it through their actions (or inactions)?
What if we choose each day, better yet each moment we remember, to be loving, to be self-loving, to commit to acts of giving and receiving love? Perhaps love and life would be a bit more sparkly.
Here are a few tips to give you that extra pep in your step 😉
(I'll be working on these too)
1.Don't just say you love someone, do something loving (ideally in their love language*).
2. Receive love by allowing others to support and help you (and help them give you love in your language*).
3. Show yourself some love!**
*We all give and receive love differently. A great tip I once heard is to write down 10 things that make you feel loved, and ask your partner/mother/sister/brother/friend/grandparent to do the same, then commit to doing these things for one another. Another great tool is The 5 Love Languages by Gary Chapman (take the quiz!), which can be applied to romantic love, familial love, and friendship.
**If you're not sure how to love yourself, think of a specific action you take to express your love to someone else, or how you know someone loves you – for example, my love languages are "words of affirmation", "quality time" and "physical touch", so some ways I show myself love are speaking kindly to myself, spending quality alone time (like my trip to Bali), and self-massage.
Wishing you the best on your journey to engage more fully in loving yourself and others, and creating space for what matters!
Women, if you're looking for more support, check out my Self-Care Series from Busy Women.
About the Author
Allie Andrews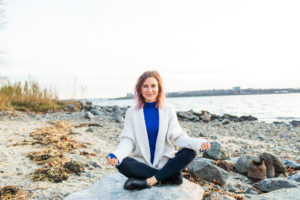 is founder/ owner of OmBody Health. A recovering busy addict herself, she is passionate about teaching busy people to rush less, create space for self-care, and mindfully flow between doing and being to be more effective, creative, and purposeful. She is a Certified Yoga Teacher, Health Coach, and experienced meditator who has been practicing regularly for 10 years.